---
Join me as I reconnect with my dear friend and accomplished integrative practitioner, Dr. Maria Gabriela Pinzon. Imagine leaving the conventional path of medicine to explore the uncharted territories of integrative medicine – that's the journey we embark on in this episode. We delve into Maria's audacious transition from traditional medicine to functional medicine, highlighting the role of understanding the root cause of diseases. This inspires a discussion about balancing life as a doctor, mother, and entrepreneur – it's not all about work, sometimes it's about finding equilibrium in the chaos.
From our daily routines to our dietary choices, everything we do can either harm or heal us. As we navigate the conversation, we consider the concept of toxicity, inflammation, and trace the journey of healing from its roots. Maria and I underscore the importance of small, daily steps towards health, offering practical strategies for empowering your health journey. We share insights on liver health, detoxification, and the significance of minerals in our body, especially during detoxification.
What is av-9?
As we wrap up this insightful chat, we ponder the need for a paradigm shift in self-care. It's about prioritizing ourselves – we can't pour from an empty cup, after all. Our discussion leaves us with the understanding that a comprehensive knowledge of both Western and Eastern medicine is instrumental in restoring balance. Don't miss out on Maria's enlightening counsel on the importance of minerals, her revolutionary AV-9 product, and how it's transforming lives. Let's navigate this health journey together, one episode at a time.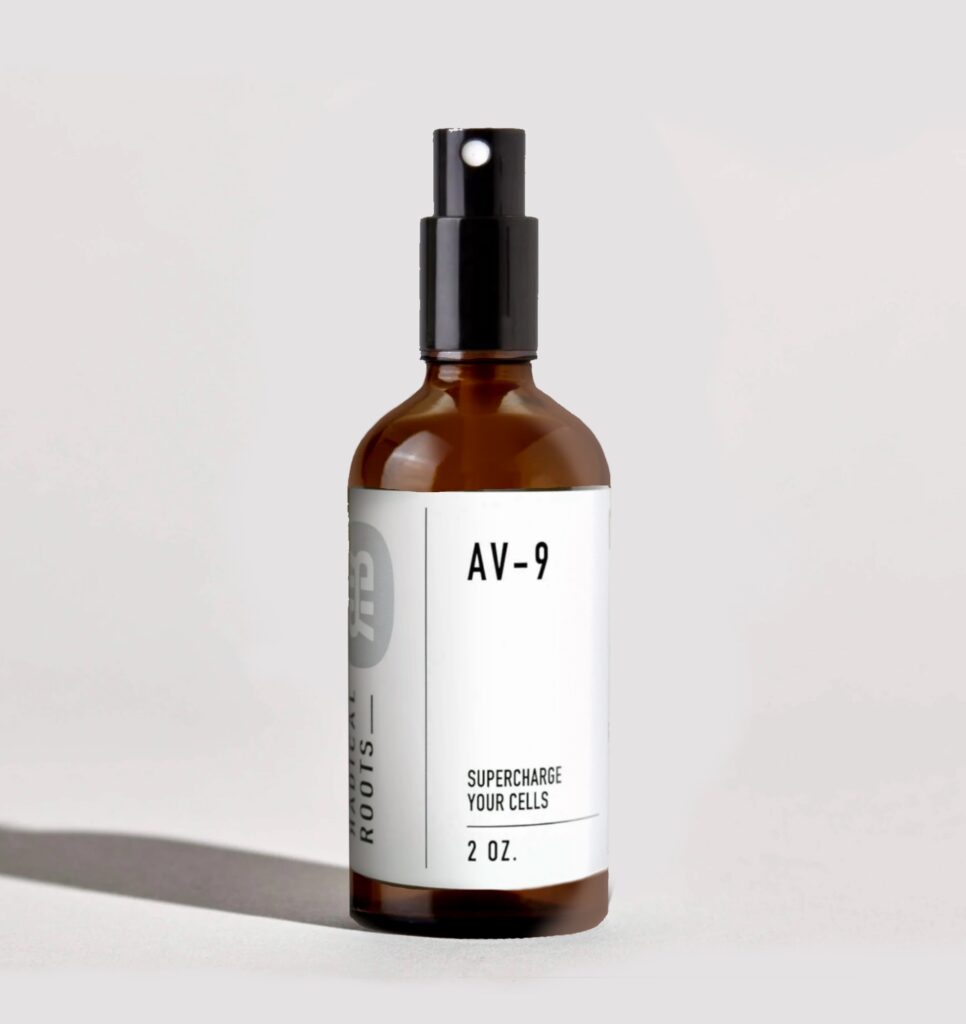 Listen to Dr. Maria's episode to learn how AV-9 can help support and restore your body's balance.
AV-9 Immunity Tincture is perfect for when you're feeling run down or stressed, and need a quick and easy way to support your body's natural defences. Just spray it under your tongue and feel the difference!
Episode Highlights
(0:00:01) – Dr. Maria Gabriela Pinzon and her journey from traditional to functional medicine.
(0:08:29) – Toxicity and how to bring the body back into balance.
(0:12:27) – Inflammation and its role in restoring body balance. Importance of pro-health activities on a daily basis.
0:28:31) – Strategies for supporting liver health and detoxification such as liver cleansing, coffee enemas, homeopathics, and radical roots.
(0:37:25) – Importance of minerals in our bodies, especially during detoxification, and the role of products like Cell Food and AV9.
(0:53:12) – Importance of shifting paradigms in self-care and finding peace.
(1:01:51) – Reflections on life and wisdom. Importance of minerals in our bodies and their role in detoxification. Strategies to restore body balance.
Resources:
Website – mariagabrielapinzon.com
Instagram – www.instagram.com/dra.mariagabrielapinzon
AV-9 – radicalrootsherbs.com/products/energy/av-9
Transcript: